When Christmastime starts to come around, we like to put up some decorations to help us get in the spirit. I put up some Christmas lights around the store windows and on our front porch at home. We also like to do something special in the front windows of the store. We've had a Fall display in the smaller one, and a back-to-school theme in the other 'till now, but it's time for a change.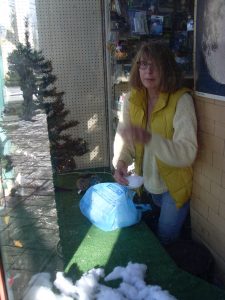 Some of the big stores actually employ dedicated window display designers, but here at Hill Hardware we may be "dedicated", but we're not really in the same league. I'm usually not too inspired, so you're lucky that my wife Mary Anne has a good imagination. She comes up with the ideas for our windows and does most of the work. I help her with moving the big stuff and sometimes making her more jazzy ideas come to life in a practical way.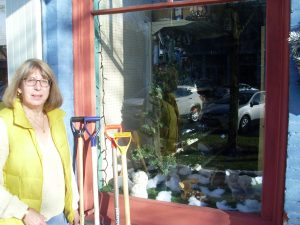 Christmas windows tend to be our most elaborate. I think that Mary Anne and I are both trying to replicate the store windows we used to see as children. I remember riding the rapid to downtown Cleveland for Christmas shopping when I was little. We went to see Santa and Mr Jingeling (ask a native Clevelander) and marveled at the big decorated trees and the holiday window displays. They had lighted and animated figures that really made it seen magical to us kids.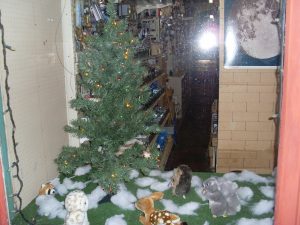 We don't have any animated figures yet (although Mary Anne keeps hinting), but we do have lights. This year's scene is "Christmastime in the forest" with all the little forest creatures gathered around a small lighted tree. We have "snow" on the ground and everything. I tried to get a picture of it, but it didn't come out that well during the daylight. You'll just have to stop by after dark when it's all lit up. We're open until six, here at the Old Hardware Store…