First of all, to save you a few unnecessary phone calls, Hill Hardware is still open. Many places are closed starting today under the Governor's order to help control the Corona virus. Hardware stores are considered essential businesses, though. Even with folks staying home, home repairs and maintenance still go on, and sheltering at home isn't much fun if your toilet breaks. So we will be here for your needs (as long as I stay healthy) so wash your hands and cross your fingers.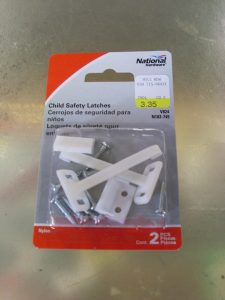 So now, on with the new products. Keeping with the "stay at home" theme, Keeping inquisitive little fingers out of places that they should not be is a necessary thing. We now have these new child safety latches available. They fit both cabinets and drawers and are held in place on the inside with simple mounting screws. They don't show on the outside of the cupboard, but open the door just a little and you can easily release them for full access.
The next two items are helpful mainly for those of you with tractors or yard utility vehicles. They are replacement switches to keep your electrical accessories working. One is a maintained push/pull switch, great for headlights and such so you can safely travel and work after dark. The second is a universal momentary switch mainly intended to actuate a warning horn. Both of these switches can be wired up simply for 12 volt applications.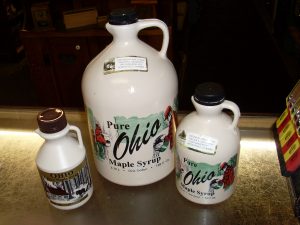 The last item may not fit under the essential items category (although it certainly does for us Geauga county residents!). We now sell fresh maple syrup. Ours is boiled locally at an Amish farm just outside of Burton. We have gallons, half gallons, quarts and pints available. Just what you need for those "stay at home" breakfasts. So if you have an urgent need, stop in and see us, at the Old (essential) Hardware Store…