Today I got a real treat. I was trying to get more steam engines in to sell, and I came across a Mamod Steam Wagon model. It came in the mail yesterday and I got to unpack it this afternoon. The Mamod Steam Wagon is one of my favorite live steam models ever (of course I already have one at home!). It is a live steam model made in England loosely based on the full sized Foden steam wagon that they used to make (also in England). These trucks were popular in England for heavy hauling duties from the teens to the thirties. There was a reason that these trucks were popular in England long after they had been replaced on our side of the pond by regular gas and diesel powered trucks. It had to do with English traffic laws, heavy trucks had a very low speed limit and if you could only travel a few miles per hour, why buy a high-powered high-speed truck if you can't use it. These trucks were used until shortly after World War 2, when the laws were changed and internal combustion engine trucks took over the market.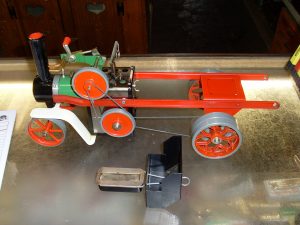 The Mamod model is a really neat, well thought out, working model. To get it going, first you tip and lift the body up off of the chassis. Then you remove the burner and fuel it up with denatured alcohol. The boiler is then filled with demineralised water (hot works best) up to the level plug on the boiler rear face. Carefully light the burner and slip it under the boiler and hook it on its retaining lugs. While the boiler water is heating you can oil the cylinder and rocker with steam oil or another good heavy weight lubricating oil.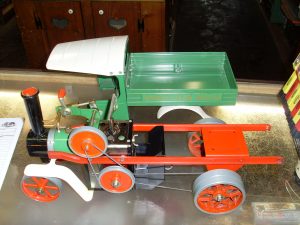 Once steam pressure is up (you can test it by trying the whistle) replace the body and you're ready to go. Put the throttle valve in "forward" and give the flywheel a little turn. The engine is a single acting oscillating type motor and as it rocks back and forth it drives the crankshaft around to get the flywheel going. There is a drive belt stretching from the flywheel hub to an intermediate shaft secondary flywheel located lower on the boiler housing. A second band runs from this hub back to the rear drive wheel. This provides a speed reduction and torque increasing effect to help provide the power to run this heavy model. It helps if you lift the rear drive wheel and let it get up a little speed before putting it down on the floor.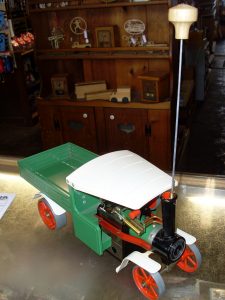 The steerable front axle can be set to run the wagon in a circle. If you want to actually steer a course with the wagon, just screw on the optional steering handle and you can follow the truck around, steering it as you go. It's quite a model, demonstrating not only how steam engines work, but how they were used in the old days to perform practical work on the roads. By the way, if you've never seen a live steam toy in operation, Hill Hardware will be open from 11-3 on pancake Sundays in March, here in Burton, and we will have a live steam demonstration stationary engine running for you to see. Why not stop in and see this model and all of our other live steam amusements, here at the Old Hardware Store…