As I explained last time, Mary Anne and I were out camping in Allegheny National Forest in Pennsylvania last week. I covered a bit about our camper accommodations, but I left out our activities while we were there. My standard modus operandi for any trip is about the same. I like to get up in the morning, eat a good breakfast and peruse the options of things to see during the day. The Saturday of our trip followed this fairly predictable pattern.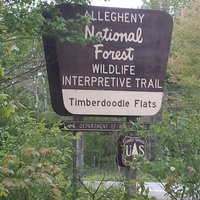 While Mary Anne cooked breakfast, I was in charge of making coffee in our "Coffee Blaster" which I'll have to write about sometime. As things were cooking, I got out my Allegheny travel bag. Since we have been there several times before I have accumulated a book bag full of historical books, hiking maps and advertising fliers. I looked over the hiking options as the weather was great. The best short hike was at one of our favorite places, Timberdoodle Flats. Timberdoodle Flats ( named by-the-way after a local slang term for the American Woodcock, a small ground nesting bird common around there) is an easy, fairly short interpretive trail.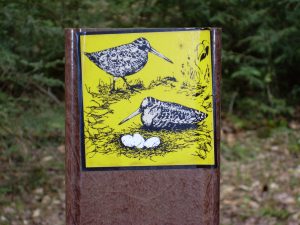 Interpretive trails are fun because the Park Service puts up signs along the trails, explaining the flora and fauna in any particular area. This particular trail winds around an old farmstead, so there are several varied ecosystems represented in the old fields, woodlot, and wetlands. The trails are pretty level (hence the "flats"), and therefore it is an easy hike. The shorter of the two loops is crushed gravel to make it an easy walk, but we usually take the longer trail which can be (and was today) a little muddy.  As we followed the trail, we read each sign and match up the plants and trees that we can see with their names provided. The animals are a little tougher as most of them cannot be seen readily, but at least we try.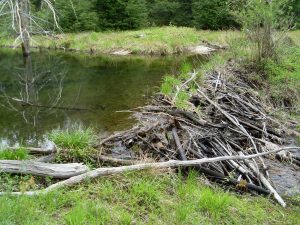 The one sign that we have never had any luck with in the past has been the one for the beaver pond. It is on a little side trail off the main one, but it only led to a small stream running through a slightly overgrown meadow. There were signs of old beaver activity, but no dam or lodge to be seen. Not this time though, the beavers are back! At the end of the meadow there is now a pretty impressive dam, holding back a good sized pond of water. We looked and didn't see any beavers, but it was the middle of the day when they're not very active.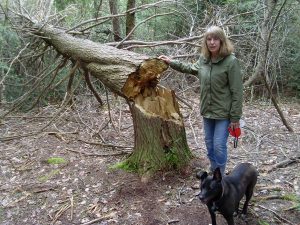 In the other sections of the park there were only a few changes. On the back loop, there were several good sized trees down. It looked like there had been a pretty good wind storm through there at some point. The vernal pools were all full up, but we didn't see any salamanders in them. There was all of one other car in the parking lot when we got there, but we didn't see another soul the whole time. Now that my kind of hiking.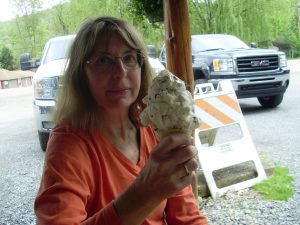 We then took the scenic drive back to Red Bridge, and stopped at our usual lunch spot, Bob's County Restaurant. Many Anne ordered her usual, a "baby" sized cone (I had one too) and then we headed back to the trailer for a little afternoon nap. We really like to live it up, when we're away from the Old Hardware Store…