Mary Anne and I just got back from a short weekend camping trip at our favorite spot, Allegheny National Forrest in Pennsylvania. I've written about this in the past, but I thought that I would explain a little about the type of camper that we take. Pop-ups as they are generically called can be a little bit of a mystery to those that aren't familiar with them. We have had two of them over the years, and while they differ a little in the details, they both work basically the same way.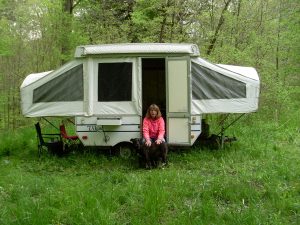 It would probably make more sense to show you how we set it up, but I was tired from the long drive, and didn't think to take any pictures. So instead I will show you how to take it down and you can mentally reverse it to figure out how it sets up. When it is all ready to stay in, it has a center section that has a dinette and a small kitchen set-up with storage cabinets. There is a hand pumped sink, and a two burner propane gas stove. The stove is kind of cool in that it is on a quick disconnect hose and can be used both inside and outside the camper. The dinette converts to a small bed and both ends of the camper that stick out are double bed sleeping bunks.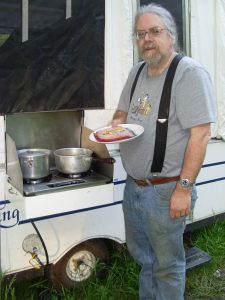 There is quite a bit of room in it, but obviously it cannot be towed down the road in this configuration. To get it ready to travel, first you have to take down the dinette table and benches. The kitchen sink also folds down into the aisle space next to it. The idea is that everything in the center section has to fold down to below the waistline of the camper. Then you can fold down the canvas part at the ends. There is just a metal hoop that holds it up and once you collapse that the whole end folds in.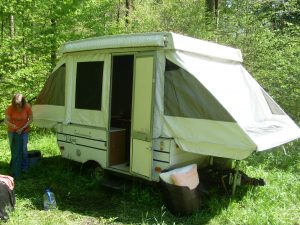 Then both of the end bed sections slide into the center section on giant metal drawer-type slides. This gets all of the camper to withing the footprint of the main section. Then you have to stop for a minute to make sure all of the canvas is folded as neatly as possible into the center section. This part is the hardest as it has a mind of its own and when you get one part folded in neatly, the other side will flop out. Once you are finally convinced that the canvas is as neat as you can get it, it is time for the last part.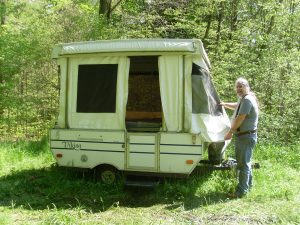 There is a crank and cable system that you use to lower the roof section back down to the travel position. This is the big difference between our old camper and this one. Our old one had giant metal spring loaded grasshopper legs to hold the top up and it took quite a bit of muscle to get them up and down. The new system is a lot better as it is easy to stop cranking at any point and re-tuck the canvas. Usually Mary Anne is in charge of watching the folding process while I do the cranking. This works well as she can walk around the camper while I crank and tuck in the loose spots.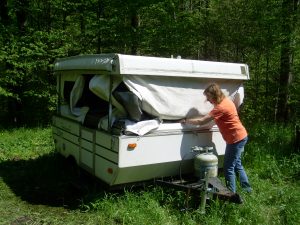 Once the top is down you just latch it at the corners and you're done. Just back the car up to the hitch (also easier with a second set of eyes) and hook up the hitch. The trailer also has lights to check before you drive off, but once everything checks out, we're off, back to the Old Hardware Store…