For those of you that are regular followers of my blog (bless your little hearts!), you may have noticed that I didn't write anything last week. That's because my wife took me on a special weekend trip to Cass, West Virginia. Why Cass, you may ask? That's easy, that's where the Cass Scenic Railway is located. For those of you that have never heard of it (the majority, I'm betting) Cass Scenic Railway is the only place in the world to ride on a train powered by real antique steam powered logging locomotives!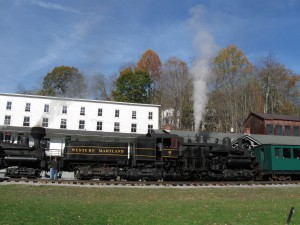 How did Cass come to be? It was actually one of the last steam powered logging operations to be working in the mountains. When the sawmill and logging operation shut down around 1960, it was unique enough to attract a following of rail-buffs and history fans that convinced the state of West Virginia to purchase the whole shootin' match for preservation as a state historic park. The park consists of the company town of Cass, with it's rows of identical worker's homes, a company store and the railroad, along with the trackage to the top of Bald Knob mountain, the third highest peak in the state.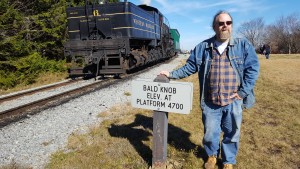 What's a visit to Cass entail? First you have to drive through the beautiful mountains on some pretty hair-raising roads to get there (that was Mary Anne's job). Then you buy your tickets in the vintage station and wait for your departure time. There are plenty of things to see while you are waiting with shops, a museum and if you're lucky a tour of the locomotive shop. Then you board the train, which in our case consisted of a double header of two Shay steam locomotives pushing (Pushing?!?) a mix of six open and closed passenger cars converted from old lumber flatcars. Luxurious?, not really, but very exciting. You can hang out of the open cars and look at the very scenic mountain views or look back to watch the train itself winding up the very steep and very windy track. How steep? On a normal railroad a 3% grade is considered steep, at Cass they max out at around 12%. How curvy? There are two places where you have to actually run the train onto switchbacks and then reverse it to run the other way! Needless it to say, it's a pretty exciting ride.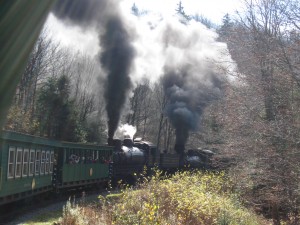 During the trip there is a stop at Whitaker Station, a restored logging camp and they also serve you a "King of the Road" hobo lunch. Once you get to the top of Bald Knob, there is a lookout platform from which you can see all the way to Virginia. The train then reverses and it takes you back down the mountain. The whole trip takes about four and a half hours and while they offer shorter excursions, for my money the long one is the way to go. There is really more to this than I can cover in one blog, so stand by for the next installment in the exciting story of "Steam's Up".