This is something new, as in "Something old, something new, something borrowed," etc.  It seems like I'm always writing about old things in this column.  Whether it's actual old stuff that I own, or the as good as the old time products that we have at Hill Hardware.  Well I'm trying something new this time, writing about new products.  I know that you are all fascinated by the personal adventures that I write about from time to time, but this is really supposed to be a blog about the hardware store.  So I figured that this week I would cover some of the new products that we get in, and explain why we carry them and what is so great about each one.  So I'll try that today and see how it goes.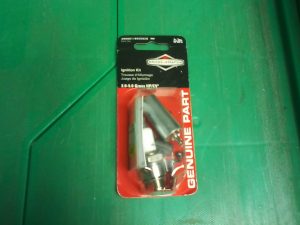 The first new item that we got in this week is an old style (see I can't keep away from the old if even if I try) ignition tune up set for Briggs and Stratton motors.  Briggs and Stratton, if you aren't aware, make a large portion of the small engines used in home power equipment such as mowers, snowblowers and the like.  This kit includes a new spark plug and a set of ignition points and condenser to fit most of the older Briggs motors.  This applies to non-electronic ignition engines as the newer ones don't have points to go bad.  While these motors were very reliable in general, the points did wear and were famous for getting corroded if the motor sat for a long time.  Instructions are included, but this kit is really for the more experienced do-it-yourselfer.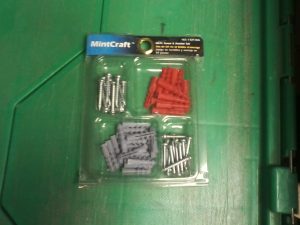 The second item is a kit of 60 (30 sets) plastic wall anchors and screws.  We already sell these but I liked this pack as it has 15 small and 15 medium wall anchors that you can keep around the house so you don't have to run to the store every time that you need to hang something on the wall.  Throw them in the junk drawer in your kitchen so you know where they are next time that you need them (what do you mean you don't have a junk drawer, I don't believe you).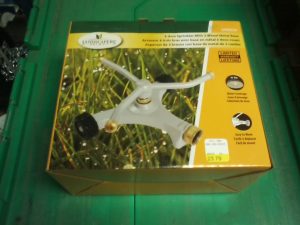 The last item is a better quality metal three arm sprinkler for watering your lawns and vegetable gardens, as well as the most important use, running through on hot afternoons.  We already carry several sprinklers, but they are plastic and this is a nice all-metal one.  It costs a little more than the others, but I like things that last.  It covers a circular area up to 45 feet in diameter (depending on your water pressure) and has little wheels on the back so you can move it without shutting the water off by pulling on the hose.
Well those are the three new products this week, look forward to future installments, from the Old Hardware Store…