A few weeks ago I mentioned in my blog about rebuilding my wrecked Ford Escape (It's doing fine, thank you) that I used to have a 1995 Jeep Wrangler. It has been one of the most favorite cars that I've ever owned, and undoubtedly one of the more practical (taking in cars like the 1963 Cadillac Fleetwood 75 limo that I drove in college). Ever since rust got to the frame after about 225,000 miles, and I had to retire it, I've wanted to get another one. I've been window-shopping online for several years, but all the ones that I've seen are either too expensive, too worn out, or jacked up and tricked out by some kid. I had about stopped looking, but as things go, right after I got my Escape back on the road and I decided that I didn't need anything else, I found one.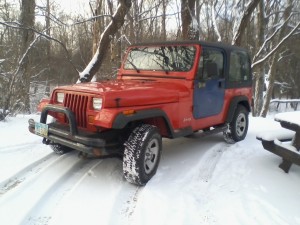 It was right there on Craig's list and nearby in Bedford. I went to look at it, figuring that there must be something wrong with it, but I was mistaken. It turned out to be a bright red 1995 Wrangler in as close to mint condition as I was likely to find in my price range. It wasn't perfect, of course, there were several things to fix or replace, but it was a fairly low mileage, rust free example. I made a deal with the owner that we were both happy with, and it was mine to take home.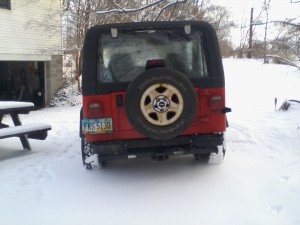 The day I came over to pick it up the adventures started. It had been pretty mild for several weeks, but now a cold front had come through and the temerature was hovering around 10 degrees. The Jeeps' battery, which I had noticed was just barely turning the motor over very slowly in the milder weather a few days ago would not start the car. After an hour on the charger the owner finally got the Jeep started. I went to drive it home, and although it drove fine it was a pretty chilling experience (literally). It turns out that because he mainly drove the Jeep topless in the Summer, he had the soft top on crooked, and not all the seams could be zipped closed. Also, in spite of the fact that the heater was roaring away with the fan on "high", it didn't seem to put out much in the way of warmth.
   Although I almost froze to death on the freeway on the way home, I made it safely back to Geauga County and put it in the garage. With the intense Winter weather bearing down on me, I tried my best to get the new Wrangler ready for it. First the top. I knew enough about Jeep tops to know that you can't stretch them on correctly in cold weather. I tried to warm up the garage, but with the bitter temperatures it just would not get warm enough. Then I figured that I only had to actually get the top warm, not the whole garage, so I just put my electric milkhouse heater inside the Jeep and it warmed up pretty quickly. I then loostened the top and got it on striaght. That allowed me to do up all the zippers and that made a big difference. Then I looked at the heater. Its fan blew like a million bucks, but there was just no heat. I checked the linkage, and sure enough it had come unhooked. The control lever was all the way on "warm", but under the dash the flapper was stuck on "cold". I moved it back to warm and re-attached the control wire and heat started to pour out of the ducts.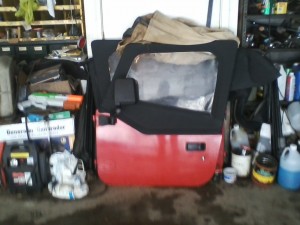 I drove the Wrangler for several days that way, and it was tolerably warm, but I had a better final solution in mind. You see I still had the remains of my old Jeep parked down by the barn. It had an all weather hardtop on it and since they were the same model it would fit the new one. My buddy Lou came over on one of the milder days this week and he helped me transfer the top from the old Wrangler to the new one. It went fairly smoothly, the only adventure being almost getting the Jeep stuck in the deep, heavy snow down by the barn. With the hardtop and doors on it, the new Jeep was as snug as a regular car in even the most frigid weather. The only drawback was that the doors were deep blue, like the old jeep, and the new one was red. The tops are all black, so that was OK. I'll just have to get the doors repainted some time when the weather moderates a bit. It'll just look a little funny until then, as I drive back and forth to The Old Hardware Store…