As we are always getting new products in here at Hill Hardware, I am falling behind again on getting them listed here on the blog. It's been a busy Summer and with the 4th now history, I have a couple minutes to describe a few of them.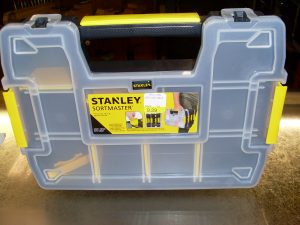 The first one is a handy carry case/organizer made by Stanley. It's just the thing to help organize the small items in your shop if it is anything like mine. It has a clear cover so you can see what is inside and a convenient carry handle built in. It features up to 10 compartments to organize screws, bolts, electrical connectors and the like. A new feature is that some of the dividers are removable. You'll understand how important that is the first time you want to put a slightly larger bolt, screw, driver bit or whatever in the case and it does not fit in one of the small compartments. In the past I've been known to actually break out the fixed dividers in my existing organizers to get something longer to fit, but no more. It features double safety locks to prevent it from popping open at the wrong time. There is also a tricky feature allowing two or more of the containers to fitted together so it is easier to take them to the job. Pretty neat.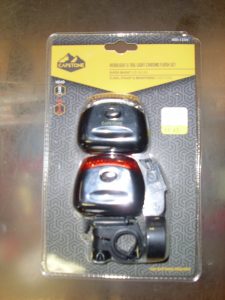 The next item is something that should be mandatory for bikes ridden at night. It is an inexpensive LED headlight and taillight set to fit on your bike. I know that the kids are supposed to home before dark, but we both know that they're going to push the curfew and get back after dusk. A light like this buys a little piece of mind for all involved. The taillight can also be set to flash automatically to help get motorists attention. Just this morning I almost missed seeing a cyclist riding along the side of the road. She had a dark colored bike, had on dark clothes and was riding in the shade past a clump of roadside trees. With the bright morning sun the contrast was so high that I didn't see her until the last moment. A flashing light would have helped a lot.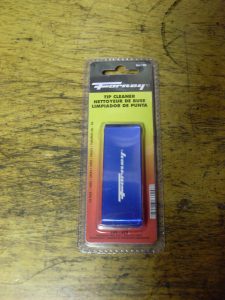 Today's last item is a little tool with many uses. It's actual description is a welding tip cleaning tool. It features several fine, graduated wire files, used to clean out small precision openings in welding and cutting torch tips. That being said, I've used mine to clean out many small holes in carburetors, gas valves and such that need to be carefully cleaned out of the junk that just naturally seems to accumulate there. Just one of many handy tools that can be used for things that they are not designed for, here at the Old Hardware Store…