This is the second installment of the "what's new at Hill Hardware?" series of articles.  These will be pretty short and possibly low on the entertainment scale.  Hopefully they will make up for it with high information content by informing you about new or possibly just "new to you" products that we have added recently here at the store.  Lots of times folks come in and ask for a product to do a job for them and when I suggest something they will respond with, "I didn't know that they made anything like that."  So here goes.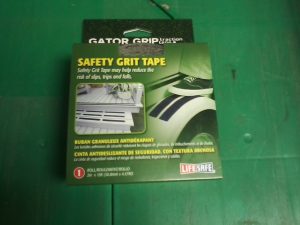 The first new item that we got in this week is what is generally called safety tape.  It is a sticky-back tape that can be stuck on the floor (or most anywhere else for that matter) to provide a less slippery surface to walk on.  This is often used on steps, porches, boat decks and other stepping places that are often wet and possibly slippery.  It comes in various sizes and can be cut to fit as needed.  This particular product is black and comes in a useful 2 inch x 15 foot roll.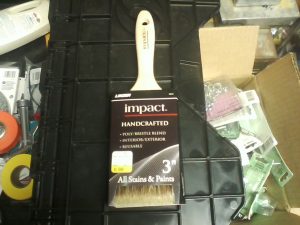 The second item is a new line of medium quality paint brushes that we are starting to carry.  It is replacing a line of similar brushes that we had that have been discontinued by our supplier (always a problem).  The new brushes are a good mix of poly and natural bristle that can be used for all paints and stains.  They have an unfinished, contoured wood handle for a good grip and are moderate in price.  These are a good, general purpose brush for the home handy-person who wants a good brush at a reasonable price.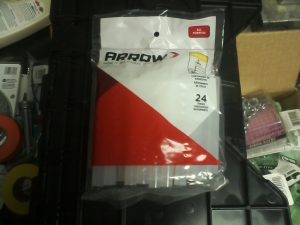 The last item is something that we already carried, but in a different size.  These are general purpose hot glue sticks.  Good for wood, ceramics, leather, cardboard, metals etc.  They are ½" diameter by 4 inches long and fit our Arrow glue gun and other guns that take ½" sticks.  We used to only have 8 stick packs, (which would last me a month of Sundays) but some of our commercial customers have asked for a larger package, so we will now carry this 24 pack.
Well those are the three new products this week, look forward to future installments, from the Old Hardware Store…