I can't believe that next week is Thanksgiving already. We have been trying to get the store ready for the holidays, but we're still not ready. Mary Anne is the big impetus behind this all, as I'm forever oblivious to the season.
   The first thing that we have to do is redecorate the front store windows. The Fall display, featuring my Erector Set interpretation of the Great Geauga County Fair had to go into storage until next time. Then we had to figure out what to put in for the holidays. Mary Anne found a cute Christmas-themed mailbox for the smaller window. I put some lights on it (you need lights in the window in the Winter as its dark all the time), and we set up our holiday snowmen (and ladies) to complete the display.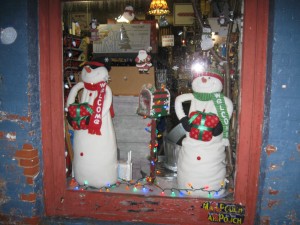 The big window was more of a challenge. At first Mary Anne wanted to put Santa in it, along with a Christmas tree (lighted, of course!). She didn't like the way it turned out though, so she eliminated Santa (Oh Nooo!) and tried it like that. I'm still not sure that she's happy with it, but we'll have to see. The object of having the tree is to have a place to display our new product line, Melissa & Doug.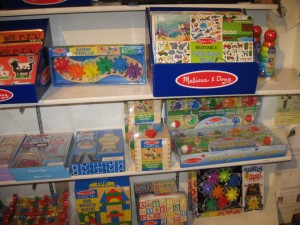 Melissa & Doug are a line of high quality, educational and fun toys for children. Started by Melissa & Doug Bernstein and headquartered in Wilton, Connecticut, they have a reputation for well designed toys that involve children in imagination-fueled play. Mary Anne thought that we should carry more toys in the store and figured Melissa & Doug would be a great addition to our offerings. So next time you're in Burton stop by and meet Melissa & Doug, at The Old Hardware Store…