This week's tale begins very simply, with a weekend trip up to our son's cabin in western New York. It was just supposed to be a quiet trip away for a couple days with Mary Anne to celebrate our 12th wedding aniversary. It began OK, but soon took a turn…into the Twilight Zone.
  We actually got up to the cabin fine, we left in the afternoon and stopped in Erie for a sandwich for dinner and made it to the cabin about dusk. We unpacked and went to bed early as we were both tired from the work week . The only thing that we forgot to pack were eggs for breakfast. I usually sleep in a little bit on my days off, but Mary Anne wakes up early. Since I was sleeping she decided to drive to town and buy some eggs and fill the car up with gas so we could go sightseeing later. Well, when she got back sometime later I was up, and she was in a lather. She had picked up the eggs, but when she was filling the car up with gas, she got distracted and left her wallet on the roof of the car when she drove off.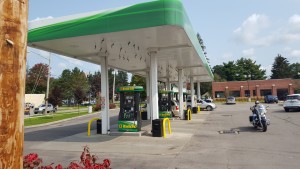 I went with her as we backtracked to town to see if we could spot it. She drove while I was looking, but we didn't see it anywhere. We stopped and asked at the gas station, but nobody had turned it in. We then called the local police to file a report in case it got turned in to them, and then drove back to the cabin. We were about resigned to the wallet's permanent disapearance and were thinking about things like cancelling credit cards and getting Mary Anne a new driver's license when we got a slightly cryptic phone call (cell phone service at the cabin is sort of hit-or-miss) asking if she had lost a wallet.
  It turned out to be the Geauga County Sherriff's Office. In one of those very unlikely sequences of events (see my Twighlight Zone comment above) involving some honest citizens and five different law enforcement agencies across three different states, Mary Anne had her wallet back intact in about two hours. It started when the wallet fell off the car roof on her way back to the cabin. Some very nice (and honest!) folks visiting from Pensylvania saw it and picked it up. They got Mary Anne's contact information off her I.D. And tried to contact her on facebook. They could not get ahold of Mary Anne that way, so they flagged down a passing New York State Police car and turned the wallet over to them.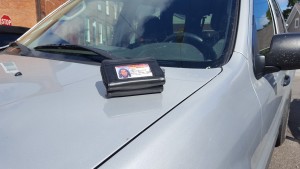 The State Police used her driver's liscence information to track her back to Ohio and called the Hiram police. Hiram told them that although her address was listed as Hiram, we actually lived in Geauga County and referred them to the Geauga County Sherriff's Department. When they called up in Chardon the person who answered the phone said, "Lamppert?, they run Hill Hardware in Burton." (I love living in the country!) They tried calling the store, but there was no answer as I had been unable to get someone to cover for me when we went out of town. They then decided that they better check on us and called the Burton Police. They stopped by and saw the sign that I had left in the window about being closed. They then returned to the office and checked the emergency contact sheet that I had just filled out a couple weeks before. One thing I had debated putting on it, but decided to anyway was Mary Anne's cell phone number, and the rest, as they say, is history.
  When we finally got ahold of the officer who had her wallet, we made arrangements to meet him at the highway department salt barn near where we were staying. After she signed for it, Mary Anne got her wallet back intact, cash and all. It really restores your faith in good honest folks when something like this happens. You expect the worst, cash gone, credit cards maxed at the nearest big box store, and I.D. sold on the street corner to identity thieves. But no, thanks to some honest citizens, and several law enforcement agencies going above and beyond their normal duties, everything worked out. So a big thanks to everyone involved, especially the Geauga County Sherriff's Department and the New York State Police, for their hard work in making everything right, at the Old Hardware Store…