If you came into Hill Hardware last week you might have noticed that I was conspicuous by my absence. Paul was ably manning the store while we took a few days off and went on a great vacation to Hocking Hills in southern Ohio. If you haven't been there, the Hocking Hills are a nature and recreation area located near Logan, Ohio. It has hiking trails featuring forests, streams and exposed rock ledges. There is also Lake Logan, which is a state park reservoir for boating, fishing and swimming. I went to school in nearby Athens, so this was my old stomping grounds. We often came up for hiking and camping in my college days, and although it is more developed than it was then, the park itself hasn't really changed much.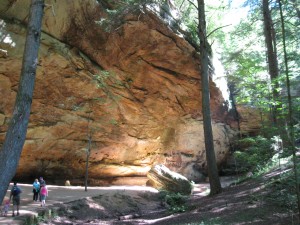 My wife Mary Anne located a cool log cabin to rent in the woods near Logan. It was actually quite large and we had enough room for all of the family that could attend. It was pretty swanky with a full kitchen, great room, fireplace and even a hot tub out on the deck. The daily schedule was about the same. Get up in the morning and cook up a good breakfast. Pick a place to go take a short hike to one of the scenic locations. Eat lunch at the ice cream parlor. Back to the cabin to take a nap (Yes, even some of the adults!). Then cook up a great dinner and have a campfire in the ring in front of the cabin.
   We saw Ash cave, which is a huge rock overhang that you could fit hundreds of people into. Rock House, which is a series of large rooms up in a cliff face, supposedly an old hiding place for bandits and the like. We went swimming at the beach on Lake Logan. On the last day we hiked down to see Cedar Falls. The falls were the only letdown, as the Summer has been extremely dry down there as well, and only a trickle of water was coming over the falls. The scenery was still really great though with many cool rocks and cliffs to be seen.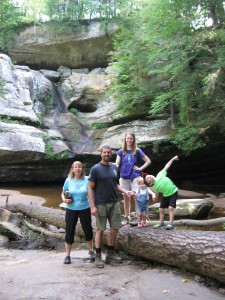 After the hike we stopped at the park water pump to get a drink, and as the younger folks couldn't get the pump to work that left it to ol' Grampa Dave to get the water flowing. I've got the inside track on these pumps, they used to have them at all the roadside rests along the highways when I was younger, so I have a lot of experience with them.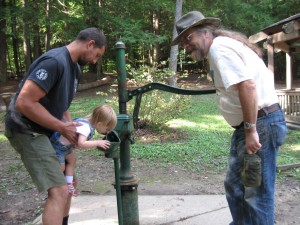 We got back on Thursday, and the store was still standing so now it's back to work, at the old Hardware Store…