Last week I was complaining about having too many motors to keep running.  Well this week we did a little something about it.  I've always been bad about getting rid of things, and old cars have been one of them.  In fact one of the reasons that I moved to the country in the first place was so that I would have more space to store my projects.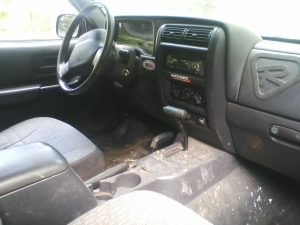 When I bought my Jeep Wrangler after Christmas I filled my need for a good four wheel drive, and my Jeep Cherokee became surplus.  It was a 2000 that had previously belonged to not one, but two of my sons.  When I got it, it was pretty well beat up, but still running fine.  I'm big on utility in cars, so that was OK with me.  The older 1984-2001 model mid-sized Jeep Cherokees were pretty good cars.  We've had three of them and they all delivered great value.  They all had the inline six cylinder engine, an all cast iron, seven (seven!) main bearing design that was pretty much indestructible.  We got 200,000 plus miles out of each of the ones we had and we never had to work on the engines themselves.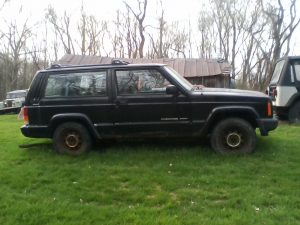 Mine was getting pretty long in the tooth, though, and it was time for it to rest.  Ohio salt was getting to it pretty bad and it was getting very rusty.  The exhaust was shot, and as regular blog readers know, the brakes were out (rusty line).  It had just been sitting down by the barn for the last six months, and when Mary Anne suggested that it was time for some stuff to go, it was an obvious choice.  All I wanted off it was the tires, they were still good and they would fit the new Wrangler.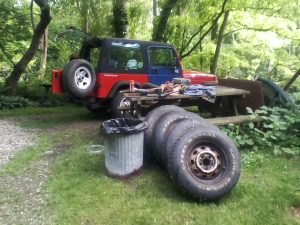 I threw a good battery in it and it started right up (of course).  I got the lug nuts loose, but all the wheels were rusted tight on the hubs.  I know a trick for that so I left the lug nuts loose and drove it around the back yard a few times.  That got two of them, and a third popped loose with a little heat from my trusty propane torch.  The last one was really stuck though (there's always one!).   It took several more trips around the yard, more heating and an eight pound sledge to get it loose, but I was finally done.  I put on a set of bald tires for the junk man and traded out the good battery.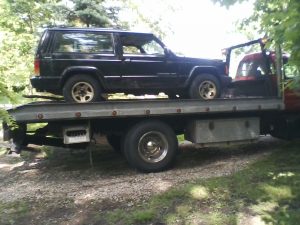 They came to pick it up right on time and it went down the road to its new resting place at the salvage yard.  I feel a little sad about it, I had it eight years and put about 40,000 miles on it and it never left me stranded.  Well, on to bigger and better things, next trip will be Mary Anne's old Grand Cherokee and then we'll see.  I suppose everything has to go eventually, at the Old Hardware Store…