The scarecrows are out, the pumpkins are in and the food is cooked, it's time for a Fall celebration in Burton! I came up about 11:00 this morning and had trouble getting through town there were so many folks around. I had forgotten that this weekend in Burton brings the Oxtoberfest, the Apple Butter Festival and craft fair in the circle.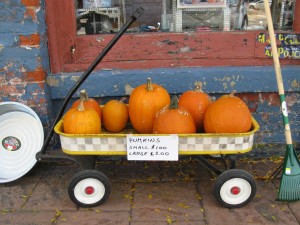 The story actually started on my blog last Spring when I bought a farm disc set for cultivating my new pumpkin patch. I just wanted to grow a few so we could have a Jack-O-Lantern carving party for the grandchildren this Fall. They grew pretty well and I ended up getting so many that they are now for sale in front of the store.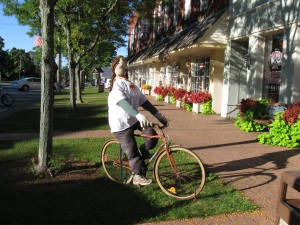 This year's scarecrow I talked about a couple weeks ago and it has been joined by several others scattered around Burton. He's been holding up pretty well in the weather, although if we had been further down South I'm not sure he would be faring so well.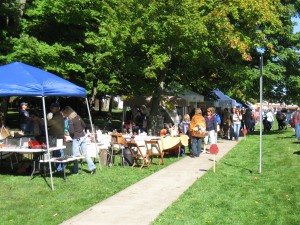 The main events this weekend are the Oxtoberfest and the Apple Butter Festival. The apple butter festival is at Century Village at the South end of town and features homemade apple butter and other attractions along with tours of the restored buildings that comprise Century Village. The Oxtoberfest started out serving roast ox dinners and has since expanded to a beer tent with live music, hence the Oktoberfest tie-in. M y wife, Mary Anne is helping to serve the food up at the cabin, and I'll surely be heading up later for dinner. So if you get a chance this weekend, the weather looks great (up here at least) and the village will be hopping with things to see and do.