Now that is is festival season, it seems like I will have plenty to write about. Last week was the Ashtabula Beachglass Festival, then this week was the Fairport Harbor Mardi Gras. The Fairport Mardi Gras is actually just a parade and carnival, so I don't know where they get the Mardi Gras name from, but this year was their 75th anniversary. Mardi Gras is an all-volunteer organization and they donate all their profit to various civic projects. Over the years they have donated several hundred thousand dollars to Fairport area projects and a lot of the projects such as beach improvements are still bearing fruit.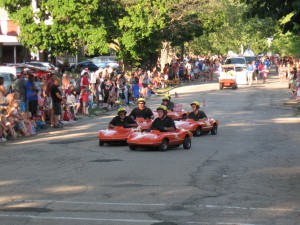 The Mardi Gras festival starts with a parade and while we had trouble getting into town because of the traffic, we managed to make it to the parade (it wasn't that hard, it runs within half a block of our cottage). It is a pretty good parade, with marching bands, twirling teams, old cars and other cool units. For me it's never really a parade though until you see Miss Grapette and her court from the Geneva Grape festival. My wife always enjoys the Shriners in their go carts, and this year there was also a unit on mini-bikes. I also was impressed to see the Newbury St. Helen's new unicycle team in the parade. I remember them from the Blossom Time parade in Chagrin when I was little. I had the unfortunate experience of seeing a girl on one of the reeeeeealy high unicycles fall and break her arm one time, but this years team was good and the only fall I saw was one "staged" to shock the crowd.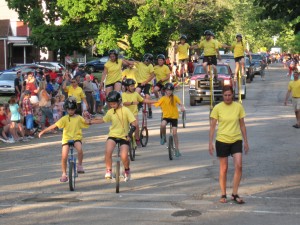 We went down to the carnival later on where I got my usual – a Nick's Gyro. We also got some fried waffles and a funnel cake and ate them on the beach. No rides for me though, working at Geauga Lake park in my youth cured me of that. Hey, that's something else I could write about sometime, but that's all for now, at the Old Hardware Store.