Last weekend my wife Mary Anne and I went on an adventure up to a place I haven't been to much before, Ashtabula. It's located on right on Lake Erie about an hour East of our cottage in Fairport Harbor. I've been there before for a couple of auctions and sales, but I've never stopped to look around before. This weekend though, they were having their annual Beach Glass Festival in their arts and restaurant district around Bridge Street. My wife is a big beach glass fanatic and she really wanted to go to the festival.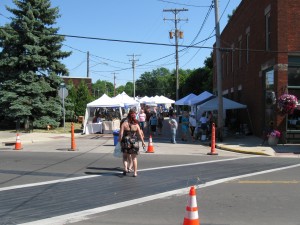 Beach glass, if you aren't familiar with it is just old broken glass that has been washed around in the surf until it is worn smooth. It takes on a very pretty look, especially if it is colored. It is then collected and artsy folks make it into jewelry and display items. My wife has a big collection of it that she has found on the beach in Fairport. She keeps it in mason jars and has some of the more unique pieces on the window sill where the sunlight can shine through it. She isn't too artsy-craftsy but she has been trying to get me to make something out of it for her. I'll have to do a little brainstorming and see what I can come up with.
   The Festival in Ashtabula was pretty good. There were several dozen venders set up on Bridge street and along the river selling beach glass creations and other arts and crafts. We shopped the booths and then had a delicious meal at one of the local restaurants. It was right opposite the lift bridge and it was fascinating to watch it go up and down to let the boat traffic through every half and hour.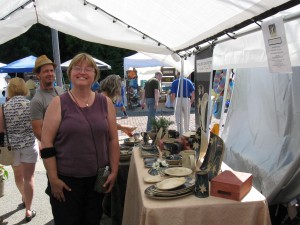 There was a bonus in our visit in that some of my old friends were displaying their wares at the show, Evelyn and Kevin along with their son Henry. They run Kaleidoscope pottery in Easthampton, Massachusetts. They specialize in Leafware pottery decorated with impressions of real leaves on them. They are pretty unique. You can look them up online at www.kscopepottery.com to see what they look like, OR you could come to Hill Hardware, as we happen to carry some of their smaller pieces right here in Burton. You see, Evelyn and I went to college together and we have kept in touch ever since. So when we were looking for items to put in our gift department, her pottery came right to mind. It was great to spend some time with them again and catch up on things. Hopefully we will see them again next year at the Festival.