It's now time for another installment of the "what's new at Hill Hardware?"  I haven't had time recently to write a regular article for the blog this month.  July seems to be our busiest month, with the store pretty busy as long as the weather is good, and I've had something to do every weekend so far.  But don't worry, I've been faithfully recording my activities on camera, so now that I'm a little less busy I can catch you up.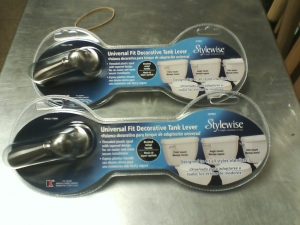 But first, on with the new products.  The first item this time is kind of a neat deal.  I think the number one thing that usually goes wrong on a toilet (even more than the flapper?) is usually the handle breaking.  This wasn't too much of a problem a few years ago, after all, all toilets were basically the same and took the same replacement handle.  Well, it's the late teens now and everyone seems to have a designer toilet that takes a different handle.  As often as most folks push the handle on their toilet at home, you might be tempted to think that they would know what kind of handle it has, but you'd be wrong.  Ask yourself what yours looks like (no peeking, yes I'm sure that you really have to go) and you might be surprised.  This new universal handle adjusts to fit all the common mounts, front, side and angle, and sports a jazzy brushed nickel handle, to boot.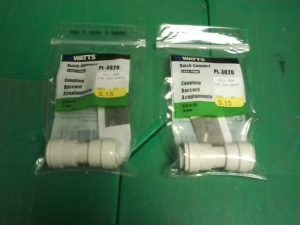 The next item is actually a new series of push-type water line couplers that we now carry.  By now most home handymen (folks) are familiar with Sharkbite brand push fittings.  These work by using a one-way spring steel ring to lock the inserted tubing into the fitting body, where an external O-ring provides a water tight seal on the outside of the tubing.  They didn't actually invent them, by the way, but they have done the best job of marketing them and so they are now the new Kleenex of the plumbing world.  I've used them and they are certainly slick and easy.  The new push fittings that we are carrying are a different brand, but fit smaller sizes of tubing than standard plumbing.  The smallest line regularly used is 1/2", which measures 5/8" diameter on the outside, by the way (I'll explain that to you some time as soon as I get it straightened out myself).  The new fittings come in 1/4" (for icemakers), 3/8" for service lines, and 1/2" (actual), because sometimes it is used for some reason nobody can explain.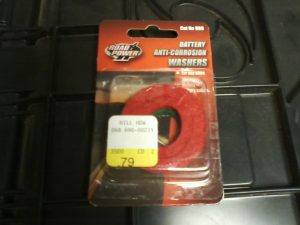 The last item is kind of a basic one.  One of the most common problems that people have with their cars is them not starting.  This is often caused by corrosion between the battery terminals and the cable clamps.  This is why everyone cleans these terminals regularly – NOT!  Someone figured this out and created a special felt washer that, when installed between the battery terminal and the clamp, helps prevent corrosion from forming.  They are pretty inexpensive, especially when compared to a new battery (what ever happened to the $29.95 new battery? the last one I got was over $100!).  Anyway, they are good insurance, especially if you don't check under the hood as often as you should.
Well those are the three new products this time; look forward to future installments, from the Old Hardware Store…