Boy, it's cold outside today, a high of about 10 degrees, with a minus something wind chill factor. There are only a few things that you can do to feel warm, even inside, in this kind of weather. One thing that always works for me though, is to cook up something on our 1948 gas range. It's a massive thing, and once it's warm, it warms up the whole kitchen. And when you're cooking on it, of course, you are using cast iron cookware. I've used cast iron for years, and we have quite a collection at the house. Some of the older ones are supposed to be collectable, but to me their true value lies in how they cook.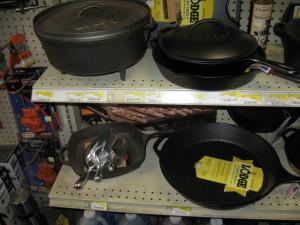 Cast iron cookware is heavy (and how!) and conducts heat evenly through the pan when you are cooking. It also keeps food warm once you take it off the stove, we usually just put it right on the table and serve right out of the pan. Usually on Friday night we take dinner over to my Mom's house, and if we use the cast iron, the food is still hot when we get there.
   Here at the store we sell Lodge cast iron cookware, it's great quality and is the only cast ironware still made in the U.S. of A. It comes preseasoned these days, and there is no need to season it before you cook with it. The frying pans are the best sellers, and come in many sizes, from the tiny "one egg only" size, to a huge "breakfast for the whole scout troop" monster.
   Besides the ever popular fry-pans, they make several other handy types to choose from. My wife likes the deep frying pan, great for chili or chicken and dumplings. The dutch ovens come in two styles, the traditional campfire style with feet and a rim on the top to hold hot coals. These will actually bake bread if you want, hence the "oven" moniker. The modern style dutch ovens dispense with the feet and rim and are at home on the stove-top as well as in the oven.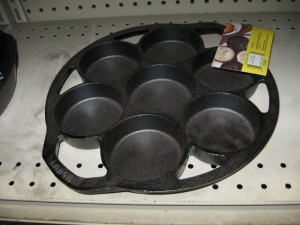 The other thing that we carry is bake-ware, cast iron cornbread pans, either the wedge-shaped, or corn cob shape are very poplar. The other one is the biscuit pan for making those old home-style biscuits to go with your stew.
   Once well-oiled cast iron is non-stick, just wipe it out and you're ready for next time. You can also wash it just like normal cookware, just don't scrub too hard as you can scrape off the seasoning, then just make sure to dry it well so it doesn't rust. If you do scrape some of the seasoning off, don't fret, just oil it well and keep cooking, and the seasoning will repair itself in no time (if only more things in life worked that way).
   Well it's almost quitting time here at the Old Hardware Store, I think that when I get home I'll get out some of that ol' cast-ironware and warm up the kitchen…