If you have been following our blog you already know that last week Hill Hardware gave away a free air compressor to the lucky winner of our 65th anniversary raffle. Craig came to pick it up last week and he was very impressed with the prize and thanked us sincerely. But what comes around goes around, as they say, and this week the prize was for us!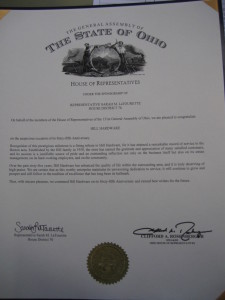 Ohio State House of Representatives member Sarah M. LaTourette, stopped by the store to personally look around.  She was there to thank Mary Anne and myself and present us with a wonderful certificate congratulating Hill Hardware on its 65th year in business. She had picked up on our anniversary in the paper, and wanted a public recognition of the event. As stated on the certificate, over the years Hill Hardware has tried to dedicate itself to the well-being of the Burton community and to earn its success through good products and prices, and by offering the finest in personal service to all our customers. My wife and I do this not only to try to run a successful business, but to endeavor to do our part to support the town of Burton and the surrounding area where we make our home.
Well, we'll try not to let our new-found fame go to our heads, and we hope to see you soon…at the old hardware store.