I could not post anything last Saturday because I was busy at the biggest event on my social calender (after my wife's birthday and our wedding anniversary of course!), this year's Historical Engine Society's Antique Power Show. For those of you who are not familiar with the concept of a power show, it is sort of like an old car show or antique show, but it covers all sorts of antique and vintage power equipment including old cars, but where the emphasis at a real classic car show is in the judging of the spotless old cars to see which one is the cleanest and most original, the main point of a power show is to see the old equipment in action. This is not to say that many of the restored machines are not things of beauty, but unrestored and even ratty examples may be seen doing their thing.
   This can range from stationary hit-or-miss engines pumping water or running machines to vintage farm tractors running the pulling sled up the street in a friendly contest of power and traction. Our display was located in the lower field, conveniently next to the excavating equipment with their huge pile of earth. All afternoon we watched them dig it up, pile it in a truck and then dump it back on top, "wearing out the dirt", as they called it.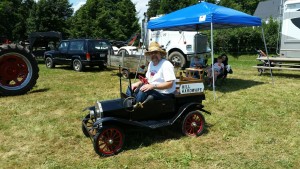 Our display consisted of several toy steam engines from my collection, similar to the ones that we have for sale at the store. Our "delivery truck" was present too and while it's not a real antique, at about 45 years old it is definitely in the vintage category. Manufactured circa 1970 by a company called Sharp Mini-Cars. It is a 1/4 scale working auto loosely based on the famous Model T Ford. Originally thought up in the 1950's by the McDonough Power Equipment Company, a lawn mower manufacturer, the little car was a way to keep the factory busy during the off-season. The cars were produced by several companies over the years, culminating in the Sharp models produced in the 1970's. Powered by a 5 horsepower Briggs and Stratton engine, the truck has a combination belt and chain drive, a forward/neutral/reverse transmission and rudimentary brakes.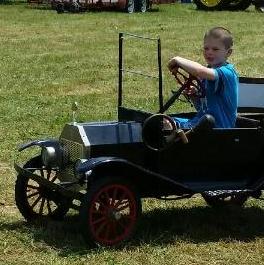 I took it for a spin around the grounds before relinquishing the wheel to Jamie, who at nine years old, fits in a lot easier than I do. He did pretty well for his first time out once he got the hang of the clutch. He just drove it around in circles, but that is what a power show is all about, getting the old iron working again just for the wonder of watching it run…