Well, we've survived another stay at home week here in Burton. Of course I've still got to come in to keep our essential hardware store open. Mary Anne does most of her work on a computer, so she is able to work from home pretty effectively, but I haven't figured out how to sell hardware from home. Business has been a little funny too. With most folks staying at home unless they really need to go out, our customer count is way down. The people that do come in though generally buy a few more things, as they are consolidating shopping trips and don't want to find out once they are home that they need just one more item to finish their project. Although about once a day I get someone who is just in looking around, checking things out and not purchasing anything. These people give me the willies. Who goes out in the middle of a pandemic to window shop? I just don't know.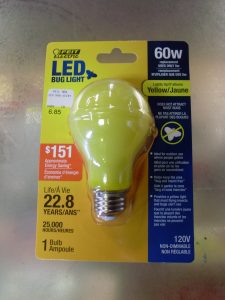 In spite of various supply shortages that we are facing here at the store, we do have some new products to offer. The first is just in time for the warmer Spring weather. It is the newest version of the ubiquitous "Bug" light. As most people know, having outdoor lights on at night attracts bugs, and many people do not like this. Yellow lights are less attractive to them, and so yellow bulbs have been used for years out on porches and such. The old incandescent yellow bulbs always seemed to burn out fast, and so when they replaced them a few years ago with compact fluorescent bulbs, it was a great improvement. Now, with compact fluorescents rapidly on the wane, we now have the new LED yellow bulb. It only uses 5 watts to provide as much light as an old 60 watt incandescent and will last many times longer too.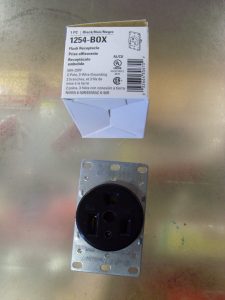 The second item is a little more obscure, but just as necessary. It is a heavy duty electrical receptacle used in specialized applications. They make many of these and I thought that I had them all, but someone came in the store a couple of weeks ago and asked for this one and I had to admit after a lengthy search that I did not have it. Well, now I do, this particular one is rated at 250 volts, 50 amps. I know that this is double-dutch to most of you, but it would be used for a heavy duty piece of shop equipment. A welder comes to mind, but I'm sure there are other uses.
The last item is yet another specialized paint accessory. Boy, when my mother taught me how to paint around the house, she had a big brush, an smaller sash brush, an edging pad and shield and a roller. That was it. Of course she just painted rooms one color and she was done. Now with all these new decorating magazines and TV shows there are a million ways to decorate a room with paint. Of course you need a million different painting tools to create all these great effects, so here is another. It is a microfiber miniature trim roller to edge up your new creation. Microfiber rollers hold more paint and give a better finish that regular rollers. Now I just have to find a place for them in our ever more crowded paint accessories department.
Well, as I remind our customers when they leave the store, wash your hands and cross your fingers, here at the Old Hardware Store…