When I state around the hardware store, " The Power Show is coming up this weekend!". Everyone knows what I'm talking about. In more normal circles, though, I'd probably get some blank stares. In an effort to remedy this sad state of affairs, this week I'll give you more of an in-depth overview of what an antique power show is and hopefully why it's so cool.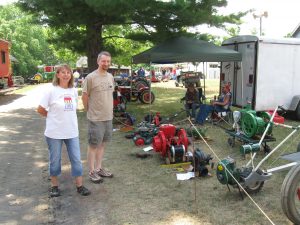 Basically an antique power show is a combination of a display and demonstration of all sorts of older historic machines. There are no hard and fast rules of what can be displayed or how old it has to be. Depending on what kind of machinery you're talking about has a lot to do with it. Some of them are well over 100 years old and bona fide antiques. Others are less than 50 years old, but are obsolete or unusual enough for folks to find them interesting. It is similar to an old car show, where the autos on display range from old Model T's to almost new sports cars. The key is for the display to be interesting to the average historic gear-head, which does not necessarily translate to the average man on the street. The Burton Antique Power Show is sponsored by the Historical Engine Society. These folks meet year round to plan shows and events tailored to their special interests.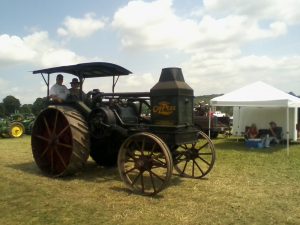 What will you find on display at a show? It depends on what folks decide to bring up. The staple is old farm tractors. This years show featured Rumley Oil Pulls. These are ancient, hulking, kerosene burning behemoths that date from the earliest days of agricultural mechanization. Driving one of these around the grounds with only rudimentary steering and braking can be a real adventure. I think that it's great!
Not old enough for you? How about a real steam tractor (or traction engine as they are more correctly known. These run on real steam, produced by burning wood or coal in a firebox to heat the boiler just like a steam railroad locomotive. There was one of those too. It was unusual in having the engine below the boiler and not on top. It also featured a narrow front axle. I didn't get a chance to talk to the owner, but it looks like a home built machine assembled from parts sourced from various old machines. None the less, it seemed to run fine and it was a hoot to see it steam around the grounds.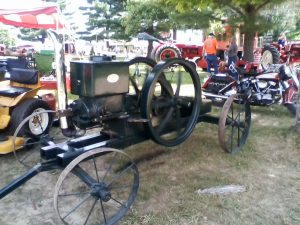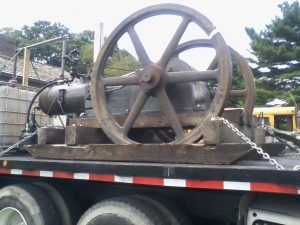 Stationary engines, generally known as hit-or-miss engines due to their unusual governor system are a common display. Large and small, these were common on farms in the old days to power all sorts of farm and household machinery. Like bigger engines? Huge engines were used to pump oil in the Pennsylvania oil region and can still be found today, although you need to make a bigger commitment to bring one to a show.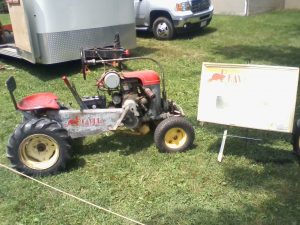 Older yard equipment is also popular, the more unusual the better. This Beaver lawn tractor definitely fits in that category along with my Gravely convertible tractors.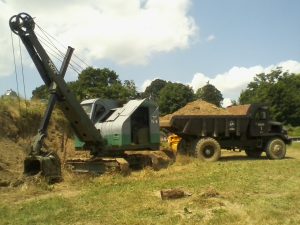 Old construction equipment is popular also. Especially if it's sitting around the back lot of an older sand and gravel pit and the owner is an old machinery enthusiast. Usually he has the required repair equipment, and often the extra time in the off season to work on things. The guys that work at the pit already know how to run it, and it makes a fine running demonstration.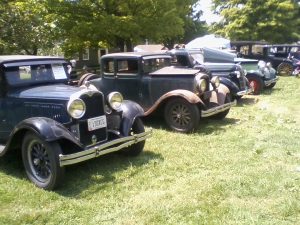 Old cars and trucks are also in evidence, and unlike some classic car shows, nobody is going to give you a hard time if your car is in "original" condition and not restored to brand new. This line of vintage Dodges belongs to a friend of mine, and are a great break from the usual masses of Fords and Chevys.
Vintage military vehicles are welcome too. Such as this World War 2 GMC CCKW cargo truck with optional replica anti-aircraft machine gun mounted above the cab. Unusual counts in military vehicles too as this post war Swiss (?) Mercedes Unimog excavating unit demonstrates. I remember when these were still available on the surplus market, I should have got one before they all sold out!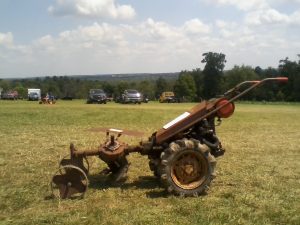 I only had time to bring up a small display this year, but I still had a great time. There was a great Geauga County view from my display spot and the weather was great. I'll be sure to be back again next year. For now it's time to go back to work, at the Old Hardware Store…