Now that it's mid-October, a chill is in the air, and the frost is definitely on the pumpkin. It's obvious when you walk through Burton because along the main street you'll see suspicious characters lurking about that just don't seem to blink as often as they should.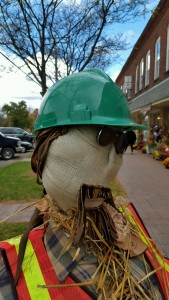 You see, in Burton October brings the return of the scarecrows. We didn't get our scarecrow out until late this year because we were away on vacation. My wife made our scarecrow the second year that we had the store and every year it appears in a different guise in front of the store. It was just supposed to be an average guy, but when it was finished it bore a distinct resemblance to yours truly. So far it has been a repair man, a plumber, a waiter, a farmer, a gangster, Superman and a pirate.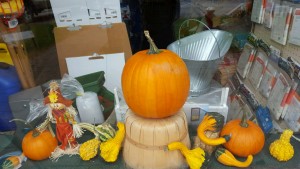 This year it took a little brainstorming, but it appears that he turned out to be a road repair construction worker. He's complete with his stop/slow sign and a road barricade. I just hope that he doesn't have any accidents while he's out there. Road workers aren't the most popular guys around. Stranger things have happened, at the Old Hardware Store.