Well, as predicted the big snow came last weekend. On account of the travel warning not to go anywhere, my buddy Lou and I decided to drive two counties over to Jefferson for a hunting and fishing show at the fairgrounds. We ate breakfast at the Jefferson Diner before hand and it was delicious. After the show we drove back home and then Mary Anne and I traveled up to the cottage in Fairport. There was a little snow, but we didn't have any trouble. The real adventures started when we arrived home on Sunday. We had gotten about a foot, and more was supposed to be on the way. Time to plow!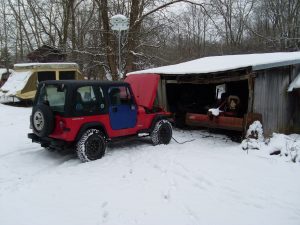 Plowing at our house is always an adventure, as I use my old Massey Ferguson 130. It is a standard diesel farm tractor. I was actually a few steps ahead this time as I had decided to get the tractor out of the barn and up the hill on Friday before we got all the snow. This had required going down with the Jeep and jumping the tractor to get it started. The battery is not as good as it should be, but it usually starts it fine when it is warm out, but it falls short during the cold stuff.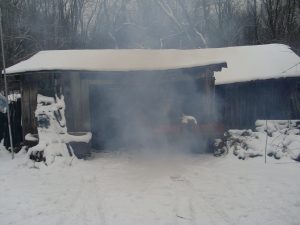 I got the tractor started up OK with a jump and a little starting fluid, but the real trick is to get it out of the barn without asphyxiating yourself. I'm not sure exactly when the tractor was made, let's just put it this way; it's old enough to smoke! I then parked the tractor in the driveway and put a tarp over it, waiting for the big snow.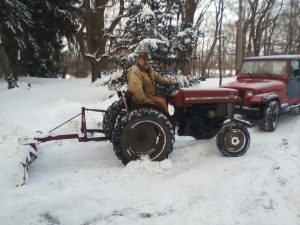 When we got home on Sunday I plugged the block heater in and snapped it on the crankcase (it's magnetic) and let the engine warm up for a while. I then got it started and dressed up in my snowplowing suit. It's a set of insulated overalls, an old farm coat and my Radar O'Reilly army cap.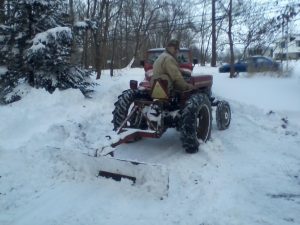 Plowing with the Massey is a real hoot, as it's set up with a back blade on the rear 3-point hitch. This means that you either have to plow going in reverse, or turn it around and try to pull snow behind you. To do our drive, you have to use both techniques. It's a U-shaped drive, and goes downhill to the turning area and the garage. Unfortunately power steering was an unheard of luxury when the Massey was produced. It took me about an hour to get it done, and I was pretty tired by the time I was finished. Mary Anne had decided to go snow shoeing instead, and I think that we both got a pretty good workout. Good thing that I didn't have to back to work until the next morning, at the Old Hardware Store…