This Sunday brings the March Spring Steam-Up to a close at Hill Hardware. For those few of you who aren't aware, March brings Pancake Sundays to Burton, with delicious pancakes and sausage served at your choice of local venues. Each location supports their own good cause, and local volunteers make it all run smoothly. All have their own special features and all are good. We like to sample a couple each year, and today we met my Maryland-based sister and nephew at the firehouse for hot firemen (and women) pancakes.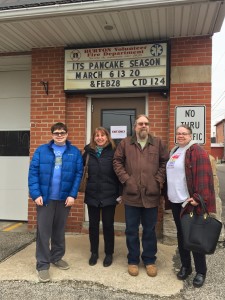 The line wasn't too long and being able to see the fire fighting equipment and pictures made the wait interesting. The food was good, as usual, and after two helpings, I was hardly able to waddle across the street to open the store. I set up the steam engine and we played host for the next few hours to folks who were wandering around town trying to walk off their breakfasts.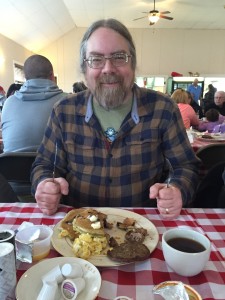 We were medium-busy at the store today, as it all depends on the weather. Today was a little cool and overcast, so not all the pancakers took a walk after their meal. Not as busy as a sunny day, but better than a blizzard. I don't think anyone is doing pancakes next Sunday (unless they are doing them at home!), as it is Easter. But don't worry there are still going to be some pancake breakfasts in April for those of you that haven't been yet, or need just one more before next year. See you then, at The Old Hardware Store.