I just thought that I would show you a few pictures of our new cottage – just kidding. Last weekend my wife Mary Anne and I attended a charity event sponsored by her work, Paul Moss Company at the Wolstein family's Ravencrest estate in Hunting Valley. The event was to support the H.E.L.P. Malawi organization which is dedicated to helping educate children in rural Africa. Their efforts support primary education and scholarships for secondary education to help them become future leaders in their communities.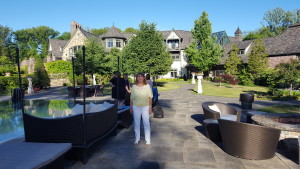 We had a great time, the event was in the pool area on the patio. They have a pool, hot tub and a fully equipped pool house. They had a great food buffet set up, and of course a full bar. We enjoyed the food, and played some yard games, as it was too cold for the adults to swim (the kids, of course, went in, they're impervious to the cold!).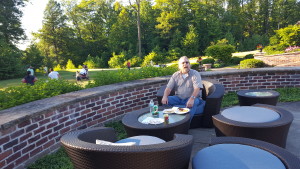 Too bad the main house was closed and we could not see the inside, but I looked it up online when we got home. The main house (there are a gatehouse and pool house also) is about 36,000 square feet and is sited on 150 acres at the edge of Hunting Valley with a beautiful view over the valley. It has every amenity that you could imagine from an indoor basketball court and pool to a special shower for their pet parrot. I cannot imagine living like that, but it was fun to try for the evening. Maybe in my next life!