I've always liked the woods.  When I was a kid, we all played in the woods along the Chagrin River behind my Mom's house.  We played Army, hide and seek, built tree forts, and played in the creek.  If I consider it, those were some of the happiest times of my life.  The woods were a magical, cool, shady, place where you could always find something interesting to see or do.  It didn't matter if I was alone or with a group, I always felt safe and protected.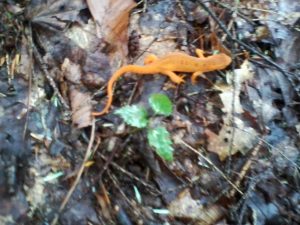 This feeling continued as I was growing up, and that is probably why I stayed in the woods, going on backpack trips and canoeing in the far-off places around the country.  I hung out with a great church sponsored youth group in Chagrin.  We backpacked in Ohio, Pennsylvania, New York, Kentucky, West Virginia and Colorado.  We also canoed the Okefenokee Swamp, the Minnesota boundary waters and rafted Ohio Pyle.  After college, I also motorcycle camped around the Midwest and camped at one of my good friend's retreats in Southern Ohio.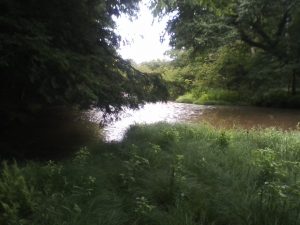 As I got older (I know, I started getting soft) I decided that I wanted to be more comfortable, so Mary Anne and I purchased a pop-up tent camper.  We took it camping quite a bit, Mostly in Ohio and at Allegheny National Forrest in Pennsylvania.  To me, at least, a pop-up is the perfect compromise between comfort and "roughing it."  Ours had foam mattresses, and a dinette with a table and small stove, plenty of comfort there.  But you are still sleeping under canvas (or vinyl these days, I guess), and when all the windows are zipped open, the woods are all around you.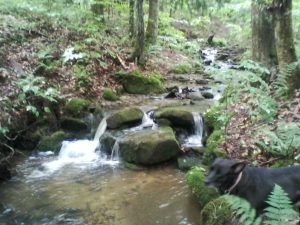 Our first one lasted us about 20 years (we bought it used), finally succumbing to too much weather in the backyard between trips.  We sort of traded camping for our Fairport cottage the last few years, but I still missed going camping.  This year we got the chance to get another used but still good pop-up and I decided to go for it.  It is a little smaller than our old one, but that is a good thing as our tow vehicles have gotten smaller also (our beloved V8 Grand Cherokee is long gone).   Mary Anne's Forrester is a 4 cylinder and so is my Wrangler.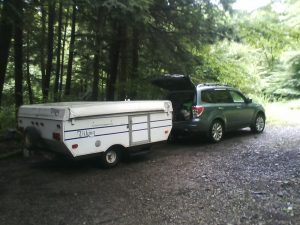 We finally got a chance to go a few weeks ago.  We transferred our camping gear to the new trailer, hooked it up to the Forrester and headed back to Allegheny.  The car had to work a little harder to get up the hills, but we made it no problem.  Even with our late start we still got our favorite primitive campsite on the fire road along Kinzua Creek (no reservations here!).  We got the camper set up and had dinner.  Boy, I slept like a baby, it is sooo quiet there.  The next day we drove to a good hiking area, the Timberdoodle Flats and went for a hike.  We then stopped for ice cream and then back to the camper for a nap.  We had a fire that night and then a little rain during the night (it's not camping unless there is a little rain).  In the morning it had cleared up and we took a hike down to the creek and took Velvet for a swim before we packed everything up and headed for home.  It was great to spend some time in the woods again, before I had to go back to the Old Hardware Store…