I've got a few minutes today, so I thought that we could squeeze in a short article featuring more new products.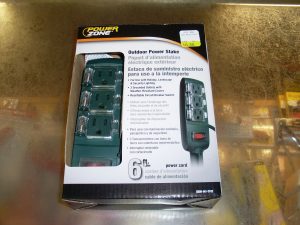 The first new item is actually an improved version of something we already carried. It is an outdoor power distribution box that incorporates a stake to mount it upright in your yard. As everyone knows, it gets dark pretty early this time of year and many folks like to have outdoor lighting to brighten things up. Not just holiday lights but floodlights to light up the home, trees and yard. Where can you plug these in? This power stake has three grounded outlets with spring loaded covers to keep any unused outlets sealed off. It also features a master shutoff switch and a six foot plug-in cord.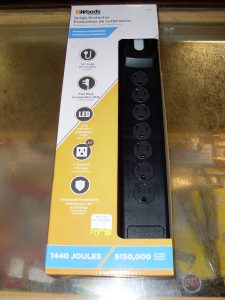 The next item is a new surge protector strip made by Woods. We had some trouble here at the store a few years ago losing several electronic devices to random power surges. I now use strips like this on all our electronics. Usually you need a power strip anyway to handle the many cords of your computers or other electronics,. Why not pay a little extra to buy a surge protector strip instead for a little added peace of mind. This little baby features a ten foot cord with low profile right angle plug, Seven outlets with rotating safety covers and two LED pilot lights showing that it is working. It provides 1440 Joules of anti-surge protection and up to 1800 Watts of clean power. I can't make any personal guarantees, but we have had no more surge trouble since we installed ours (knock on wood!).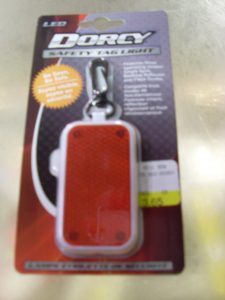 The last item also fits into the peace of mind category. It is a electronic reflector tag to hang on pets, kids or yourself. As I already said, it's awfully dark out there and anything that lets other folks see you better can help. This battery operated clip-on light has three operating modes, slow red flash, fast red flash and steady white light. It also incorporates a large red reflector in addition to the lights. When I drive after dark, I'm always straining to see if there are any animals and/or people in the road ahead. There have been a few scary times when I didn't see someone till the last moment, but never when someone is carrying a light. It really makes a big difference on these dark nights.
Well those are the three new products this time; look forward to future installments, from the Old Hardware Store…