I've got some new products here at the store this week, yet again. I've got a couple minutes this morning so I just thought that I would write them up for you.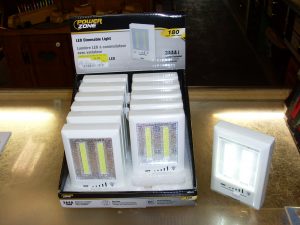 The first one is a pretty cool portable LED light. It features two high tech COB (chip on board) LED chips for maximum brightness and a slider brightness control to turn it off and on and to control the light intensity. It runs off three AAA batteries and puts out 180 lumens (about 20 watts) of bright white light. It can be left loose for portable lighting, or mounted for a permanent installation. It mounts with either two screws, peel off mounting tape or hangs on any steel surface via two powerful built in magnets. The possible uses are endless. I always think first of lighting for closets as most of the closets in or house have no built in lights. It would also make a great power failure light, with its handy magnets, you could clip it to your fridge where you could find it and then carry it around as a portable flashlight/room light. It's adjustable dimmer would then allow adjusting it to just the right amount of light you need for any given situation. Handy, handy.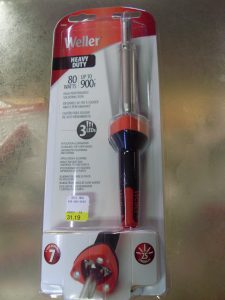 The next item is a tool that is a more heavy duty version of the one that we have already. Soldering irons have been around forever, since the days of solid copper ones that you heated up with a gasoline blow torch (think three stooges). The small electric ones are certainly a lot easier to operate and still just as handy. The only problem that I have had is that you just can't seem to get your project pieces hot enough to solder. This is where this iron comes into its own. Our regular pencil type soldering iron only has 40 watts of heating power. Great for small jobs, but it can fall short on the big ones. This heavy duty iron is made by Weller and features 80 watts of heating power, along with a large, flat tip to get the heat into the work-piece. It also sports three built in LED work lights (Gee, those things are popping up everywhere!), to provide bright illumination where you're trying to work. It also has a 7 year warranty from the manufacturer.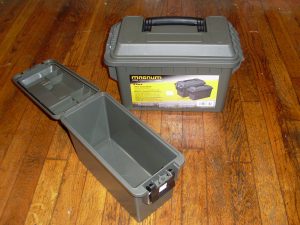 The last item (or items) are two handy storage boxes that have a million uses. One thing that I have several of are old steel Army ammunition boxes. They are a handy size and are sturdy, waterproof and have sturdy carry handles. Unfortunately they are also heavy, usually rusty and are getting more expensive and harder to find. Now some enterprising entrepreneur has brought out the perfect replacement. They are the same ammo boxes molded out of strong, lightweight polypropylene. They have gasketted, lockable lids just like the originals, but are also lighter, rustproof and less expensive. They make two sizes, big and small (50 caliber or 30). The possible uses many, but I currently have a couple and am using one to store my .22 ammunition (what else?) and the other for a carrying box for the tool kit in my boat. Don't rush, I've got plenty of both sizes in stock, here at the Old Hardware Store…