Well, it seems that Spring has finally sprung here in Burton.  It's been over 70 the last few days, and in spite of a strong wind storm that roamed through the area yesterday, it's time to open up the doors.  There is some kind of unknown stimulant in the Spring air that works wonders on the human condition.  I am in severe need of some, so I really like to open up the store.
It started early this morning when the fellow from the Army-Navy store behind us came over to borrow a ladder to put up his cargo net for the Summer.  They put it over their garage door so they can open it up for some ventilation and still limit the number of people wandering in and out.  Sure enough a few minutes later a pack of motorcycles showed up to get something at his store.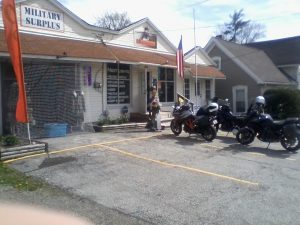 Burton tends to be like that, it is a destination town and small groups of motorcycles, bicyclists, classic cars and hot rods often show up together and stop in town.  We also get folks driving out from the "city" who need a place to go to for their "country drive".  They get a coffee or ice cream and then wander the downtown area shopping.  Having the front door open is a way of inviting them into the store even if they do not think that they would be interested in a hardware store.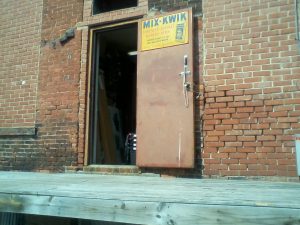 So in the interest of both ideas I opened up the front and back doors to the store to let the fresh air in.  The front door faces West and I get a nice breeze in with the prevailing wind.  The two back doors face east and give the air somewhere to go.  One of them is opens onto our truck dock, so I don't have to worry about someone coming in.  The other one I especially like as it is right behind my "desk" behind the counter and I'm only about three feet from outside.  Sure I get a little wet sometimes when it's pouring out, but that's all part of the game.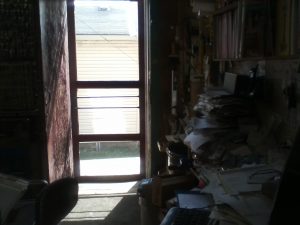 I guess that I'm just a fresh air fiend, my little Ford has a sunroof that always seems to be open, and I'm thinking that it's about time to take the hardtop off my Jeep Wrangler and trade it for the soft top.  I'll do it as soon as I get the chance, at the Old Hardware Store…