As I said last week, I've been needing to catch up on my new products write ups, so here goes another one.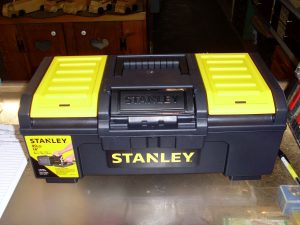 The first item is a new tool box from Stanley. Tool boxes have changed from the old days when they just were a steel box with maybe a lift out tray on the inside if you were lucky. First of all the new boxes are mostly made out of plastic. This means two things, first they will never rust. All my old tool boxes are rusty, both inside and out. Secondly, plastic construction has allowed designers to add in all sorts of handy features that were just dreamed about in the old days.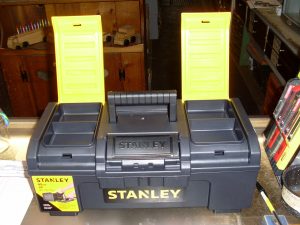 This twenty-first century box has a flush folding carry handle, allowing you to stack things on it's flat top, unaffected by its folded handle. The box is held shut by a simple pull latch, allowing one handed operation and fool-proof against accidental opening by snagging an exposed latch on a doorway or similar (believe me, I've done it!). Also there are two snap-top compartments on either side of the handle for all those little things such as driver bits and small screws that are otherwise lost under all the big tools in the main compartment.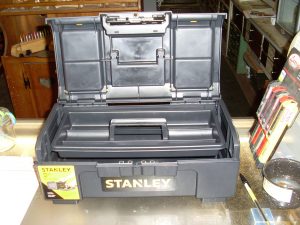 Once you're inside, there is a molded lift out tray with several rounded compartments to keep your sockets and other small items organized, but also immediately accessible. Below the tray is a roomy main compartment for bigger tools such as wrenches and screwdrivers. Overall it's a great box, for a great price.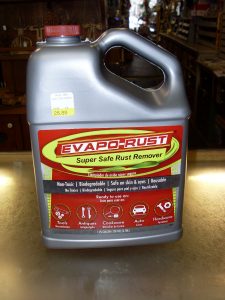 The next item is actually a chemical. It is one of the new next-generation rust removers. It's called Evapo-Rust. As a collector of all things vintage, I've done more than my share of rust removal over the years. None of the common procedures that I've used have been that great. Grinding and wire brushing are slow, noisy and messy. Chemical strippers are corrosive and slow and sandblasting is expensive. Evapo-Rust is a water-based, non-corrosive rust treatment that has won many awards for innovative new products. When I spotted it in the catalog, I ordered some and I'm anxious to try it out. I'll keep you posted on the results.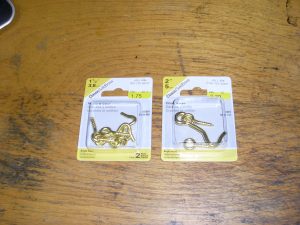 The last new item is just a basic hardware item but folks have been asking for them, so here they are. Hook and eye latches have been a farmyard staple for generations. As a matter of fact, I sold several this morning to an Amish father who was making a new hutch for his son's rabbits. Rustic hardware has been in fashion for a while now, and hook and eye latches are showing up on cabinets and storage cabinets inside the home. Some people want something simple like this, but a little different than plain zinc plated steel. Hook and eyes are now available in solid brass, just the thing to add a little different look to you finished project. Different sizes are available, just stop in and pick out what you need, at the Old Hardware Store…