Today was a fun day here at Hill Hardware. Oh, sure, I was busy helping folks find parts to repair their toilets and such. Then about Noon, when I was trying to eat my sandwich, a tour bus rolled into town. A few tourists made purchases, but most were just tire kickers coming through to get out of the cold rain. I finally got to finish my lunch about 2:00, and then the customers just died. That's normal for Saturday afternoon, that's why it's a good time to write my blog stories.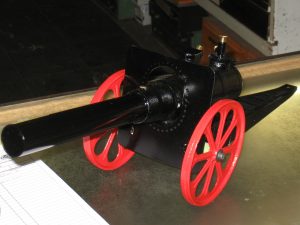 But today, first it was time to open some big goody boxes from Jensen and Conestoga companies. I opened the Conestoga box first. Conestoga is the name of the company that makes Big-Bang cannons. I had ordered an FC15, the biggest carbide cannon the company makes, as well as a replacement charger for a customer that had lost the one for his cannon. For those of you not familiar with carbide cannons, they work by mixing a little carbide powder with water in the barrel of the gun. This quickly produces a small quantity of highly flammable acetylene gas, which mixes with the oxygen in the air, to produce the makings of a loud explosion. A small cigarette lighter type sparker sets it off into a surprisingly loud roar. Big-bang cannons have been made for decades and they are still produced in Pennsylvania, where we get ours.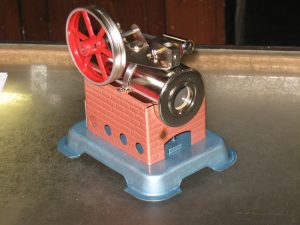 The other big box, coincidentally also from Pennsylvania, was from the good folks at Jensen Steam Engines. They are the last domestic producer of working steam toys and have been making them since 1932. I needed a new model 85, which is a small entry level engine great for a young person just getting into the steam hobby. I also wanted to get something else for our lineup, so I picked out a model 65. This is a bigger unit with a slide valve, rather than a oscillating cylinder type engine. It also has more features such as a throttle and whistle. All of the steam engines though, large or small, work on real steam, just like in days gone by.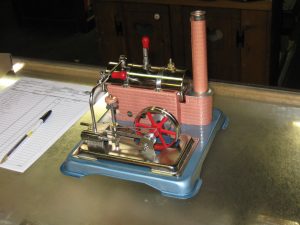 I carefully unpacked all these classic toys and found places in our toy cabinet for them. I just better not get too attached to them though, Christmas is coming and some lucky boy or girl, young or old, may be getting something retro under the tree. But that's what we're here for, at the Old Hardware Store…