I may be dating myself here a little bit, but this article is about post office boxes. I mean they really aren't that obsolete, we actually have one for the hardware store mail. Of course the young folks do all this stuff electronically though. We went to an escape room last week as part of a bachelor party and we had to "sign" the liability waiver form electronically on their digital pad (they had to show me how), not a piece of paper in the joint. That probably explains why the U.S. Postal Service is in such trouble.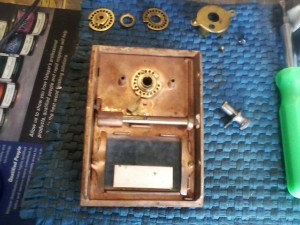 Our "modern" post office box has a key to open it. We've misplaced it a few times, which is probably why in the old days post boxes had combination locks on them. They were pretty unique, handsome cast brass with some dials having letters instead of numbers for the combination, and some even having more than one dial. The beauty of the combination locks is that there are no keys to loose.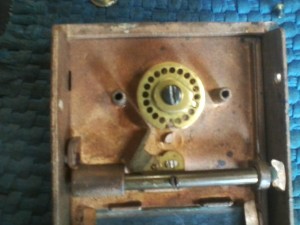 When the post boxes were updated to key locks several years ago (too bad)some enterprising entrepreneur figured out that the old doors made a great change bank if attached to a wooden box with a coin slot. Many people have made these over the years, I even made a few for the boys' Christmas presents when they were younger. I try to keep some here at the hardware store for sale, but as some of them are now 100 years old they often need to be tinkered with to get them to work correctly.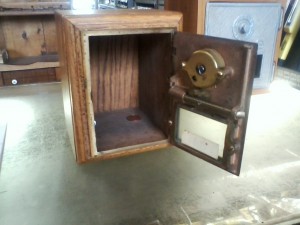 The last one that I got was typical, the combination lock was not working correctly and I had to take it apart to get it to function. As with most, it just needed a little cleaning, oil and TLC to get it going again. I have gotten pretty good at taking the mechanisms apart and have even figured out how to convince them to open if the combinations are lost. I assembled it again and it works good as new. It has now found its place on the shelf with the others, for sale, at the Old Hardware Store…