At Hill Hardware we have our own brand of March madness, however, it does not involve basketball, but pancakes. In case you haven't heard, Burton, Ohio is pancake town U.S.A. What this means is that for the month of March, give or take a few weeks, people flock to Burton to attend fund raising pancake breakfasts on Sundays.  With all of these extra people in town, We make an exception to out usual policy of being closed on Sundays and we open half a day (11-3) to get to meet some of the pancakers and let them see the store.
   As you walk around Burton in March, often you will see steam rising from the roof of the log cabin on the square where Burton Chamber of Commerce volunteers are boiling down maple sap into syrup. But the cabin isn't the only place where there's steam in town, as a special treat, I like to fire up one of my toy steam engines and run it for the visitors. In case you are not familiar with toy live steam engines, I will give a brief explanation. In the late nineteeth century the main power supply for manufacturing and transportation was steam. Children have always wanted to emulate the adult world and model steam toys were very popular. To run them you have to fill the boiler with water, oil up the engine and light a fire under it just like the real thing. Steam toys were made around the world and domestically, and some are still made today. My Dad gave me a steam engine when I was about 10 years old and I was hooked. We now carry an assortment of models at the store for the steam enthusiast.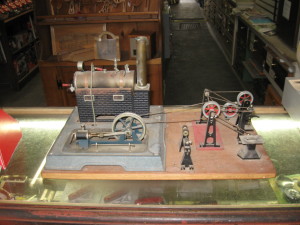 So if you're in town on Sundays in March, stop by the store to see our steam engines, and while you're there take the opportunity to enter our 65th anniversary raffle. Hill Hardware has now been a family owned, local business for 65 years. To help celebrate our 65th year, Hill hardware is having a contest for the month of March, where customers can register to win a raffle for a free Pulsar 2 gallon electric air compressor. It features a 1/3rd horsepower electric oil-less compressor motor, 2 gallon storage tank and self-coiling hose with accessories. Perfect for any home garage or shop it will be given away to the lucky winner. Customers can fill out an entry form at the store, or register online at the store's website; Hill-Hardware.com. While at the site, be sure to check out all the new information about the store and Dave's online blog featuring hardware information and household hints.