One thing that I can count on selling at the store in the Summer are garden hoses and supplies. When I think of garden hoses, I usually think of sprinklers, sometimes it seems like I spent my entire youth running through sprinklers in the Summer. You see, we didn't have air conditioning when I was a kid (yeah, I know, uphill, both ways), and sprinklers were the best way to stay cool. Other people obviously use garden hoses for more practical things: watering the lawn or garden, washing the car, or watering the livestock come to mind.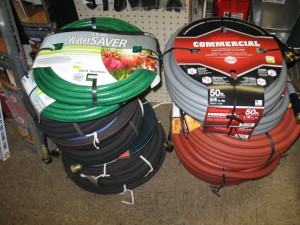 Like most things, there are different kinds and sizes of garden hoses to choose from. Less expensive ones are made of soft vinyl with reinforcing cord running through them. The heavier the vinyl and the more cord the more heavy duty (and more expensive) the hose. Professional hoses are usually made of rubber, and are much heavier. Black is the standard color for rubber hoses, but special hot water rated hoses are made out of red rubber. Red rubber is also used on farms, because pigs will supposedly attack black hose thinking it's a snake. I've never worked on a farm, but it must be true because I've had farmers come into the store and ask for "pig hose".
Hoses also come in different sizes and lengths. 1/2", 5/8" and 3/4" hoses (measured on the inside) are the standard sizes. Bigger hoses flow more water, smaller ones are lighter and cheaper. Most homeowner type hoses are 5/8". Lengths run from 15 foot "remnants" to 100 foot farm hose. Figure out what you need, but remember that long hoses get heavy and I'd rather hook up several short ones instead of lugging a really heavy, long one out to the back 40.
Like many home tools, hoses can take a beating. Getting run over with the mower or the car are the most common. Freeze damage from the Winter also occurs. "Mowed" hoses usually end up in two pieces, while run-over ones usually suffer from crushed connections. Either can be fixed with a splice kit or the correct male or female connector end. Just cut the old one off and put on the new one. Be sure to check the diameter of your hose before you drive to the store! Splices and ends come in plastic (why bother?), formed or machined brass and unbreakable(!). The stronger ones are better, and will often out-live the hose. Frozen hoses will often have split sections that need to be cut out. I try to carefully drain any remaining water from my hoses when I put them away for the Winter by laying them on an incline and coiling them up from the top to the bottom. This prevents trapped water that can freeze and makes them lighter to carry, too.
Now that warmer weather is here, it might be a good time to check your hoses to make sure that they are not leaking, or getting too short from too many splices. We've got all the repair parts you need and new hoses too, at the Old Hardware Store.